BALANCE Edutainment is working with nonprofits and celebrities including Mos Def and Cheech Marin to catalyze a movement for nutritious children's entertainment that nourishes our kids physically, mentally, emotionally, and spiritually. Our intention is to bring balance to the world by helping the younger generation discover their unique gifts and bring them to the world.
Our first products are two augmented reality children's books, related media, and activities that inspire kids to read and learn about living in harmony with nature through an engaging and interactive experience.
The Rhyming Picture – for 0-5-year-olds – is Pacha's first dream as a 3-year-old about meeting animal friends in the jungle. The Young Reader version – for 7-12-year-olds – is about Pacha's dream of returning to the jungle as a 10-year-old.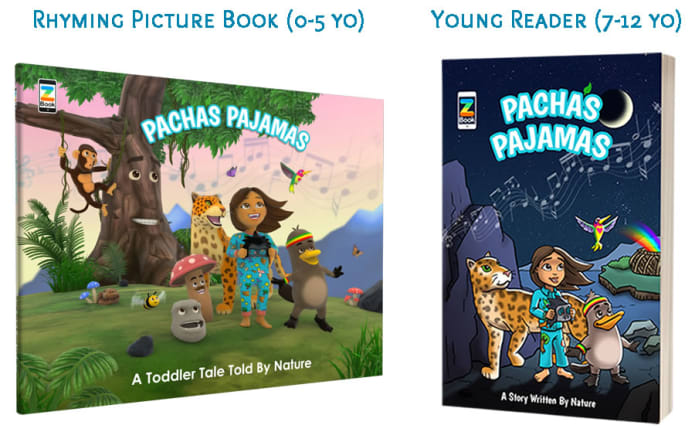 The young reader and rhyming picture books have 80 and 32 animated illustrations, respectively, many in 3D featuring the voices of celebrities including Cheech Marin, conscious rapper Talib Kweli, rock icon Lester Chambers,  Choo Choo Soul's Genevieve Goings, and  Mos Def aka Yassin Bey, our beloved narrator.
Features an easy-to-use mobile app that brings the book's many characters to life, turning them into fun 3D animations that "jump" off the page.
Pacha teaches children compassion, empathy, and connectedness through a compelling and enriching storyline about the beauty of nature, and to realize that each of them has unique gifts they can use to positively impact the environment and the world around them.
Includes an Award-winning 2-disk musical CD set and features real-world activities that are designed to get kids dancing and singing about their connection with nature and one another.
Prompts to trigger rich conversations and bring the family together
Fun facts that increase a child's knowledge and appreciation of animals and plants.
A dream journal that supports a child's exploration of their own dream world
A dance activity that invites kids to make videos of themselves doing the Connected Dance to spread the message that "We Are ALL Connected.
Stay tuned for news about the token pre-sale for the Pacha's Pajamas animated film!
Be a part of the forthcoming animated film that will spread
Pacha's message that We Are ALL Connected!
Check out the demo of the Pacha's Pajamas zBook below.